On this page, I exhibit
a part of MANGA I made.
I'm sorry, but most of the MANGA
are written only in Japanese.
Even if you cannot understand Japanese,
please enjoy just viewing pictures!
(I've started to try to
translate some of them.)
---
Space Android Suimi-chan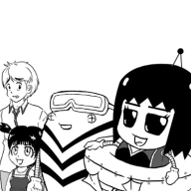 Suimi-chan, princess of planet 'MARIN',
started new life in the Earth.
This is a comedy MANGA,
and sometimes heartwarming.
[About Comics]
[About Characters]
第1話 何しに来たんだっけ?
<1-1> <1-2> <1-3>
第3話 衛星ペットのエイちゃん
<3-1> <3-2> <3-3>
第4話 たこ焼きにしてやる!
<4-1> <4-2> <4-3>
第7話 ほれぼれするほど
<7-1> <7-2> <7-3>
第9話 パズルスケート大会(前)
(Trying to translate…)
<9-1> <9-2> <9-3>
(The game of Puzzle Skaters is here.)
---
Rush Repairing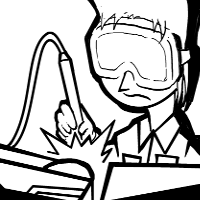 Ryan is a skillful robot repairman.
Many broken robots are
carried to him everyday…
This is a short and silent MANGA.
The game of Rush Repairing is here.